5 Reasons to Update a Customer Experience Strategy
October 19, 2022

|
Elke Steinwender
4 min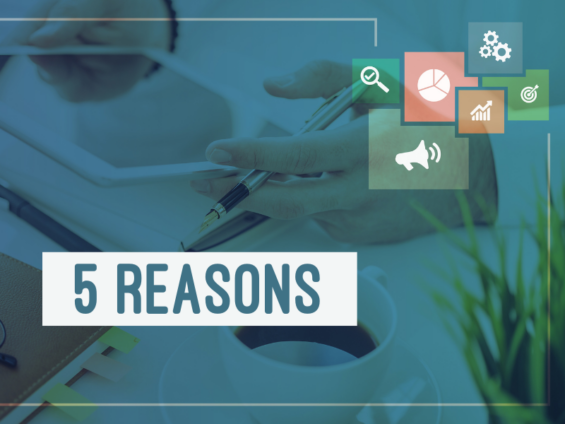 Are you due for an update customer experience strategy? What are the signs of an outdated customer experience strategy?
In our opinion, customer experience should be at the center of every organization. The following quote expresses our point of view on the subject:
"If you don't take care of your customers, your competitor will" – Bob Hooey
If you are not yet convinced, here are 5 good reasons to start thinking strategically about your customer experience:
1- Your customer has changed and you are not sure how to seize the opportunity.
First, in order to understand what customer experience is, we suggest you read again our article published last June: The customer experience according to Maïeutyk.
In a nutshell, customer experience is the encounter between the customer and your company. Once this notion is well consolidated, it becomes easier to understand how a better knowledge of your customer is essential.
When we mention customer knowledge, we mean the set of characteristics of your target market, more precisely called persona. At Maïeutyk, we define the persona in great detail in a co-creation workshop led by one of our facilitators. Our objective is to determine the socio-demographic characteristics of your target customer. We also like to determine his character traits, expectations and frustrations in relation to your products and services.
This detailed portrait of your target customer is the foundation of any customer experience strategy.
2- Your offer is not simple and easy to sell.
Secondly. ask yourself these questions:
Does your company offer unfamiliar products or services that are very industry specific?
Is it difficult for your sales team to explain what you do because it is a specialized consulting service?
Do you have difficulty differentiating yourself from your competitors?
A positive answer to any of these questions is a sign that a customer experience strategy is in order. At first glance, these 3 problems seem very different from each other, yet they can be solved with the same solution: An optimized customer experience strategy.
In marketing, we constantly hear about the importance of knowing your target market, your persona. But what about knowing yourself? What drives you? What specific needs do your products and services meet? Are you able to convey this knowledge to your teams?
A well-defined raison d'être, mission and values will allow your team to better explain your offer in detail.
3- You are unsure of the level of satisfaction of your customers
Thirdly, do you know the voice of the customer? It's a concrete plan of action that allows you to survey your customer at specific stages of their journey.
It's one thing to conduct a customer satisfaction survey at a specific point in time for a given product or service. But a relevant question asked to each of your customers at a specific point in their journey allows you to accumulate golden information on the perception of your customers at that particular point.
Once again, knowing the persona and the customer journey are essential concepts to develop in your strategy. But once these concepts are well defined, we believe that it is also essential to know your customer's opinion at strategic stages of their journey in order to improve their overall experience.
This is why optimizing the customer journey by implementing a voice of the customer process is an integral part of a customer experience strategy.
4- Your marketing, sales and customer service teams are not communicating effectively with each other.
Next, among our clients, we often observe a disconnect between marketing, sales and customer service departments – they work in silos. Yet, with a well-defined and integrated customer experience strategy, these three departments should be working together synergistically, putting the customer at the center of their operations.
It is with a consistent customer-centric vision and knowledge across all your departments that you will be able to break down internal silos and deliver a memorable customer experience.
It is through our CX training and coaching that your team will deliver a consistent customer experience. They will be able to speak the same language and offer the same customer experience regardless of the contact point. The knowledge of your mission, your values and your target market by your entire team helps them to better understand your customer.
This knowledge allows them to master the art of delivering the "wow effect" during all their interactions with your customers.
5- Your return on CX investment is difficult – almost impossible – to measure.
Finally, have you spent a specific amount of money on a customer experience strategy or marketing makeover and the results seem intangible?
There are costs associated with any strategic project, including an update customer experience strategy. For evaluating the success of your CX strategy, it is necessary to measure certain metrics related to your objectives.
In order to understand the main parameters to measure, we suggest you read the article from last June: 8 metrics to measure customer experience.
Once you have defined your metrics, it is very important to evaluate them before, during and after the implementation of your customer experience strategy. These results will allow you to make adjustments along the way and perhaps even observe other results that could influence your future decisions.
In conclusion, at Maïeutyk, we believe that a well-defined and functional customer experience strategy is the foundation of your organization's success. Shift your offer to the relationship you have with your customer and boost your company ahead of your competitors.
Therefore, don't hesitate, make the customer experience the economic engine of your development. Contact Maïeutyk to update your customer experience strategy!