The 11 + 1 Marketing Myths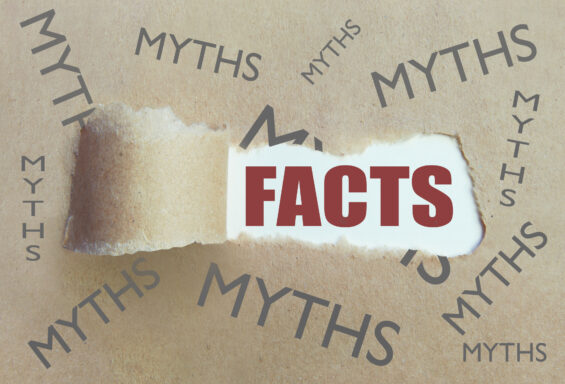 1-Marketing departments must work independently in order to perform.
The marketing function is at the heart of strategic decisions and corporate objectives; it must be efficient but continue to work in a collaborative manner.
2-Marketing serves to "push" products to customers.
It's the customer who decides whether or not to make contact with your brand and adhere to its values. Marketing's role is to simplify the customer's life.
3-In the same spirit, the product (service) has to be at the heart of any strategy.
Rather, it's the consumer who's at the heart of the strategy and it's up to us to understand how to engage him or her in a purchasing process adapted to their reality.
4-Creativity, innovation, and design thinking: a passing fashion!
It's more of a core trend that allows us to find totally disruptive solutions in team environment.
5-No need to create persona because we already have our standard profiles.
Standard profiles are a good start! Personas take it to the next level and allow you to humanize your target according to their needs, challenges, and also to create their        buying and selling processes.
6-The features of a product (service) dominate.
The customer experience should dominate over product features. After the first contact with the brand it becomes the customer's decision to continue his/her relationship with your brand.
7-Big Data and Big Brother: same fight!
In fact, big data, or business intelligence, allows us to learn more about the consumer, so making us more "intelligent" and "relevant". Big brother? We leave that to Cambridge Analytica)!
8-Your website, campaign or social media strategy must be PERFECT before launching.
An iterative process can bring you further. It allows you to make adjustments along the way. The principles of small steps bring you far!
9-Have as many ambitious strategies and goals as possible to cover everything is in a single campaign.
The principle of an all-you-can-eat buffet will not do anything except make you lose your head and your investment.
Be strategic: target!
10-Budget: your marketing budget must be equal 10% of your sales.
Not always possible. The level of resources to be invested is set according to very targeted, and realistic, objectives. A little is already a lot.
11-A brand = a logo.
Imagine that your brand is an iceberg: your logo is only the visible part. Under the water, we find everything that forges your brand's personality and its promise.
+ 1 (THE Pitch!)
Marketing consultants make sure that you can't be self-sufficient.
What if we told you that some consultants, such the team at eMARK advantage, are eager to co-create with their customers with the aim of making them autonomous?