The Employee Experience According to Maïeutyk
October 19, 2022

|
Elke Steinwender
4 min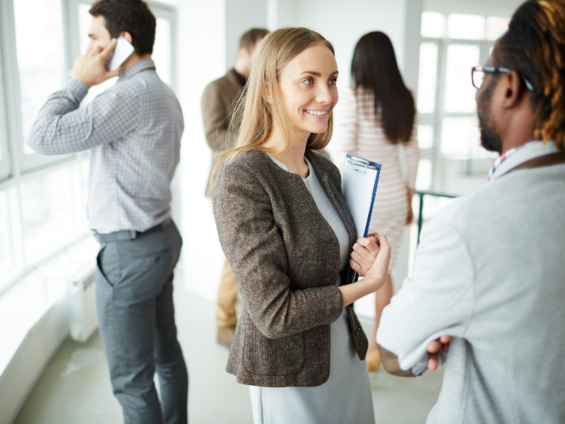 The employee experience (EX) is very similar to the concept of customer experience but with your employees or candidates included in the equation. With today's labour shortage, if you want to grow your business, having employee experience is a strategy that should not be overlooked.
Employee experience is more than just attracting qualified workers or how satisfied your employees were in the last annual survey. 
The employee experience is the systematic encounter between your company and the stakeholders who work or are thinking of working in your organization. This includes new applicants, collaborators, and your current employees.
An employee experience strategy focuses on improving the meeting space between the company and its candidates, employees, and collaborators. The goal is to make this meeting space as positive and as memorable as possible.
The employee experience is the set of interactions lived by candidates before becoming an employee and then as an employee. In order to optimize the employee experience, it is essential to know your company's DNA along with the needs of your candidates and employees. Here's more on that:
An Employee Experience Tailored to Your Image
Your Company
Company culture is an integral part of your brand's DNA. However, the concept of culture is vague and intangible. At Maïeutyk, we help you identify your company's purpose and values during our co-creation workshops. This exercise also serves to clarify and articulate your corporate culture.
During these workshops, we use maieutics (we call it Maïeutyk) which refers to the Socratic method. Maieutics is the art of bringing individuals to discover and formulate their inner truth by using questioning techniques and dialogue. This questioning technique is our facilitator's specialty and helps to "exploit" your team's innate wisdom.
Your employer brand is the culture you promise candidates and employees. The employee experience is the promises that you are able to keep.
Your Employees and Candidates
Do you know what is the perception of candidates who consider you as an employer? Does this perception change over time once they become employees?
The employee experience is the sum of all the interactions that both candidates and employees experience with your organization. . From the physical or virtual recruiting process, to the support during the onboarding process, training, annual evaluation, etc. Each of these elements contribute to creating either a positive, negative or neutral impression of your company.
The goal, of course, being to provide a positive experience that can sustainably be repeated over and over again.
However, if the experience is negative, steps can be taken to improve the situation. A negative experience requires that you have a mechanism in place so that candidates or employees are able to share with you the reasons for the negative experience.
Finally, a neutral experience is considered a failure. It is an admission of "non-experience" that is often very difficult to correct due to the lack of information on the subject.
An employee experience strategy aims to optimize each of the interactions between your company, candidates and employees over the course of their entire employee journey.
What are the challenges of an EX strategy?
The challenges relative to developing and implementing an employee experience strategy are even more difficult than optimizing the customer and brand experiences. The main reason being that the customer journey is generally shorter than the employee journey.
In fact, your employees are systematically evaluating you 365 days a year, over several years!
The risk of disappointing or making a bad impression is much greater!
In addition to managing the various touch points of the employee journey, an employee experience strategy must also ensure that the expectations of your candidates and employees are managed on an ongoing basis. This is where the challenge lies!
It is essential that your teams know and live your corporate culture.
Finally, it's impossible to make everyone happy, all the time. An integral part of a culture is that it is a living entity, with both the organization and employees playing a role, having a responsibility in making it real.
Happiness at work is everyone's responsibility!
The immense challenge of bringing happiness into the workplace cannot only be the responsibility of the organization. Happiness in the workplace is only attainable if everyone, employee and employer, accepts a share of the responsibility.
The employer's responsibility is, in addition to offering a respectful, stimulating, and safe work environment, to provide a space for dialogue. A space for dialogue at the team level as well as at the corporate level.
The employee's responsibility is to open up and use this space for dialogue. Reach out to each other; to their co-worker, to their boss, to other departments, etc.
As such, creating this space may require both the employer and the employee to step out of their respective comfort zones and come to this space with an open mind and a lot of humility.
Employee experience: a driving force to help you achieve your goals.
In conclusion, the achievement of a company's objectives lies in the mobilization of its employees towards these objectives. A team aligned around a shared vision where everyone understands their role and has the skills, the tools, and the motivation to achieve it are the keys to success.
A good employee experience strategy allows you to establish priorities and a detailed action plan to achieve your goals. I also invite you to measure your employee experience in order to observe its evolution. To do so, check out our new blog post on 11 ways to measure employee experience.
To understand where your company stands in terms of employee experience, don't hesitate to contact me for a free diagnostic.