Marketing Maturity: Breaking silos
July 23, 2018

|
Elke Steinwender
3 min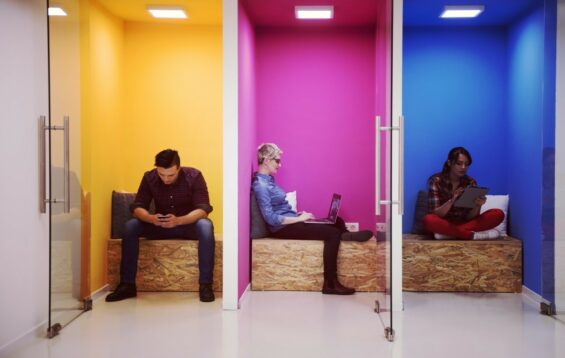 Maturity isn't only for teenagers, it's also for businesses and marketing. This blog addresses the 3 levels of marketing maturity that we noticed in our customer base.
Don't forget to read my other blog: Marketing: Myths and reality
Understanding where you stand today can help you take the next step in your business's overall growth and profitability.
Level 1: No marketing:
READ ON EVEN IF YOU THINK YOU HAVE MARKETING…
In the 1st level, the company doesn't have an actual marketing function. As you can see in the image, there is a lot of unfocussed activity in every direction.
This type of business represents about 20% of our clients and here is how I describe them: they have a website, marketing tools such as pamphlets and business cards. If they don't reach their sales goal, they push for a marketing campaign or push their sales force to "go out and sell!".
From the outside, they are often perceived as successful. They had the luck of being at the right place at the right time with a strong product delivered with quality.
On the other hand, they are often tired and their overall growth is limited. They depend on an existing, faithful client base but have difficulty attracting new clients in order to take their business to the next level.
They have a tendency to compete on the price, affecting their margins and ultimately their profitability. The multidirectional arrows in the image also represent how the clients perceive them since their positioning is unclear. Often their employees aren't mobilized, they don't feel connected to the company's value proposition and their personal impact on the customer experience is unclear.
Level 2- Traditional Marketing
This second image- traditional marketing represents 80% of our clients. Here is how I describe them: they have active marketing campaigns, promotions, someone  in charge of marketing but everything is done in silo. Marketing campaigns run with hardly any input from sales, customer service, or even operations. Each department work or interact in silo from marketing (and often each other).
Here is a concrete example of one of our clients: High tech company, B2B sales, 125 employees with an excellent reputation. They were quickly looking market share to a new competitor. To remedy the problem we held a customer journey mapping workshop where the following teams were present: marketing, sales, customer service, communications and tech support. For the first time, they realized the impact that each team was having on the overall customer experience. From there, the actions to take to remedy the situation were quite straight forward from a marketing perspective but implied that they had to start working as a team rather than silos.
"Marketing is too important to leave it only to the marketing function-everyone has to be part of it" HBR
Level 3- Marketing everywhere and by everyone
The ultimate marketing machine looks like this final image- where each team member understands his/her role in the overall client experience and works towards improving it. The brand works and its teams work as one to differentiate itself from competitors, improving sales, margins and profitability.
In my next blogs, I will address how to create marketing "everywhere by everyone" in greater detail.
Remember: Our approach is based on the Lean Six sigma – a method to integrate continuous improvement. Wherever you find yourself in this marketing maturity spectrum- every little step you take towards a better understanding of your customer's buying process the closer you are to building the ultimate marketing machine.